Healthcare
We develop custom tele-healthcare software designed for hospitals, practices, medical centres, laboratories and clinics.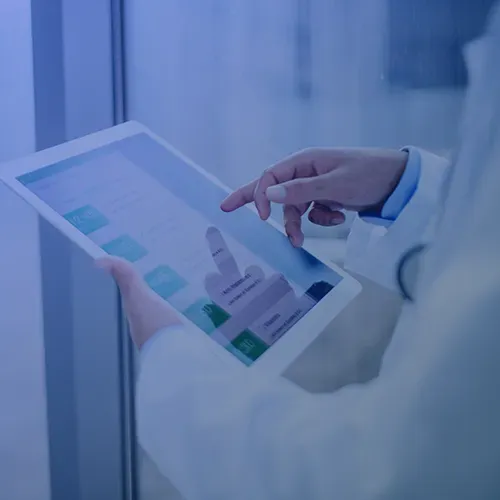 Today, rapidly developing healthcare technologies allow to obtain a lot of data that is extremely sensitive for patient care and follow-up. By using valuable healthcare data, it has become very easy today to combat diseases and provide better healthcare.
We develop custom cloud-based tele-healthcare software systems designed for medical applications, hospitals and other healthcare organizations. We offer customized applications to help patients easily access healthcare services with easy appointment scheduling systems and inquiry capability. Our proprietary software solutions allow both doctors and patients to access technology-enhanced, advanced healthcare. Our solutions include virtual healthcare applications, patient portals, remote patient monitoring, fitness trackers and applications, etc. covers many different areas.
We build powerful CRM systems to facilitate hospital/clinical workflows and help healthcare professionals focus on patient care.
We develop reliable telemedicine solutions for your hospital or clinic that will allow patients to consult, diagnose and treat doctors remotely.
We develop Practice Management Software solutions with modules that handle medical information, administrative automations, patient registration, insurance transactions and more.
We design comprehensive and easy-to-manage electronic health record systems that will reduce paperwork in hospitals or clinics, strengthen coordination among the healthcare team.
We help build modern laboratory information management systems and integrate them with patient portals.
We develop cross-platform mobile applications with user-friendly interfaces and features to monitor patient data.
We use the developing technology with innovative methods.
Let's take the first step together to be your technology partner in digital transformation.